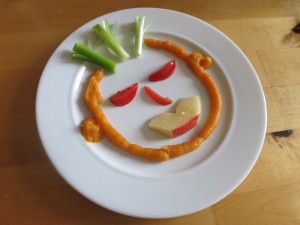 You know that Halloween is around the corner when everywhere you look you see pumpkins popping up on door steps and windowsills. My daughter, Briana, loves spotting them when we stroll through our little town.
Pumpkins don't only make great decoration, they also have a wonderful flavour. Here is a great recipe for an easy pumpkin puree that you can use in many different ways and is certainly not only for babies :-).
Ingredients:
1.5 cups of pumpkin (I like to use butternut squash)
1.5 cups of sweet potato
1 bay leaf
1 tbs of olive oil (I like to use a fruity flavoured olive oil)
some nutmeg
some bottled water
This makes approximately 2 portions for a 6 month old baby
Instructions:
Cut the pumpkin into pieces to make it easier to peel it; make sure to use a very sturdy, serrated knife
Cut it into small cubes
Cut the peeled sweet potato into similar size cubes
Place the pumpkin and potato cubes together with the bay leaf in a baby food steamer and steam according to instructions of the appliance you are using
When the vegetables are cooked, remove the bay leaf and add the olive oil and the nutmeg
Blend to a puree, add a little bit of water to make the mixture more smooth
Serving ideas:
for babies (at least 6 months) who are not that used to eating solids yet: you may want to add even more water to make the puree easier to swallow and cool it down at the same time
the puree also tastes wonderful as a spread on toasted wholemeal bread (works cold or warm)
it also makes a nice dip for apples (in this case I prefer it cold)
and last but not least it's great for food drawings to entice even fussy eaters to a healthy snack (see my pumpkin puree face with cherry tomato eyes and nose, apple mouth and spring onion hair as an example).
A little trick for drawing the face: I used one of the syringe type measuring devices that comes with some kids' medicine.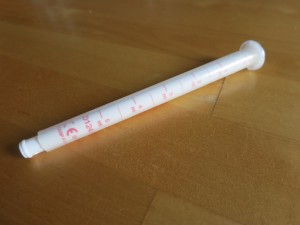 I cut off the end piece to get a bigger opening. This way it's easy to suck the puree up into the syringe and draw with it as you push it out of the syringe. Another advantage of doing it this way is that you don't lose any of the  yummy puree in the process. Get creative and if you have a fussy eater, try handing over the syringe :-).
I'd love to hear your comments and see any of your creative pumpkin puree art on my Facebook page.
Comments
comments