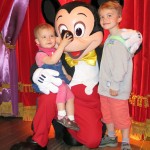 After nearly one year and one hour of waiting there he was, Mickey Mouse himself, giving my son the long awaited hug. Tristan had been asking us to go and visit Mickey Mouse and all of his other Disney friends for a very long time and we told him to keep dreaming about it and that one day it will happen.
Then one day my husband found an offer for a 4 day stay at half price which made the trip affordable and so we did not hesitate and booked. We had an absolutely amazing time and Tristan was over the moon with seeing so many of his friends and getting hugs from not only Mickey but also from Eeyore and Goofy. Briana was so excited that she hardly napped.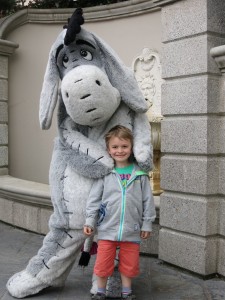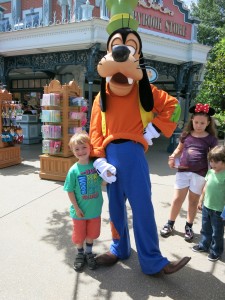 We went on our trip without any tips from anyone who had been there before and I have learned a few things that would have been valuable to know before leaving. So I decided to share these things with you and maybe they'll come in handy one day. As we went by car and stayed in the Disney's Davy Crockett Ranch some of the tips are specific to that, however, most tips are pretty general.
Recommended length of stay
The package we booked included 4 days at Disneyland including parking and 3 nights at the Ranch. We definitely recommend to have at least 2 full days and one half day at the park, you can easily fill more days and still not have seen everything. We used our first day to travel to Paris and to get some food shopping done and did not make it to the park. See my recommendations for food/meals which may make a first trip to the park on the day of arrival possibile.
Children's age
If you can avoid it, I would recommend not to go with a child who still takes naps. Nearly all of the attractions require you to leave your stroller outside, so if your child naps, there is not much you can do as a family. Of course you can always take turns. I would also recommend to wait until at least your oldest child is old enough to remember the experience.
Tips for the Disneyland park

Early entry / parking fees
If you are eligible to early entry (8 am instead of 10 am) it's well worth getting there early. It is my understanding that you get this 'VIP' entry if you book your tickets together with one of the Disney accommodations. A package deal like this should also include your parking fee (normally 15€ per day)
Fast pass option
The park offers a fast pass option for the attractions (not sure if this is an option for all or just some of them). The passes don't cost extra money; you simply get fast passes with your entry tickets at the attraction and your fast pass will tell you at what time to come back to cut down waiting time to a maximum of about 15 min. It might well be worth first going around to get your fast passes for the attractions you definitely want to do and then come back at the specified times. I would recommend to definitely use this for 'Meet Mickey' (we waited for an hour without the fast pass)
Attractions

Here are the attractions that we enjoyed most (our children being nearly 5 and 15 months)

It's a small world (on Tristan's request we did this twice and he wanted to go again)
Buzz Lightyear Laser Blast
Meet Mickey Mouse (this was Tristan's reason for wanting to go to Disneyland)
Peter Pan's Flight
Disney Parade (7pm)
Animagique (Walt Disney Studios Park)
Playhouse Disney live on stage (Walt Disney Studios Park) – it's very hot in there and small children cannot see so well as everyone just sits on the floor but for any child who is a fan of the Mickey Mouse Clubhouse films this will be a hit

Attractions we think can be missed if you don't have enough time

Snow White and the 7 dwarfs (Tristan found this a little scary)
Les Voyages de Pinocchio (can also be experienced as a little scary)
Sleeping Beauty Castle
Pirates of the Caribbean (small boats that go downhill very fast 2 or 3 times which Tristan did not like at all)
Strollers/carriers

You can rent a stroller, I'm not sure they are suitable for children who still nap as I don't know if they recline. I would recommend renting a stroller even if you don't need it for your child(ren) it's very handy for any extra jackets, bags, lunch, etc.
As you need to leave strollers at the entrance of every attraction make sure you have a small bag you can carry with you at all times for wallet, camera and possibly something to drink as you might be waiting for a long time before you get back to your stroller.
If you take your own stroller, take a lightweight cover to help your little one go to sleep. There is so much to see that the curious children might find it difficult to nod off otherwise
A good baby carrier can also be very helpful for when you are waiting in line at an attraction
Baby corner
There is at least one baby corner which is about the only place that is a little quiet. It has a microwave, small tables and chairs, a family toilet and lots of nappy changing space.
General

If you are like me and you like your kids to have clean hands when they eat, definitely take some baby wipes even if you don't have a baby anymore.
Remember to take sun cream at hats when it's sunny.
In case of rain I'm not actually sure what the best thing to do would be. I'm thinking of light weight rain coats (the kind that fold up into a small pouch) but when it rains all of the outside attractions will be wet too; there are rides that are completely covered though.
If you have a daughter who likes to wear princess dresses or might want one when she sees one; I recommend you take a dress from home and have her wear it to the park. If you don't have one you could even make it a surprise. This will avoid your daughter begging you for one of the dresses sold in the park which no doubt are as overpriced as everything else. You do see a few boys dressed up too and they generally wear pirate costumes.
Food/meals
If you want to maximize your time at the park, you will want to minimize your time on shopping/preparing food. Of course there are plenty of options at the park that serve food. All of these places are highly overpriced though and can easily add an unexpected amount to your spending. So here are my tips:
If you are staying at the Ranch there is a shop there – see comments under Disney's Davy Crockett Ranch.
Carrefour at 10 min drive from the Ranch; we love shopping at the French mega stores because even compared to the wonderful Belgian supermarkets (which are paradise when you come from a small German town) they are amazing in their selection. The problem is that you can waist loads of time in a shop of that size when you don't know where to find what you are looking for. If you decide to shop there, I can recommend the take-away sushi section. It's delicious and does not even need heating up.
My recommendation is definitely to bring your food from home to save time and money when you are there

Plenty of water
Healthy snack ideas: bananas (cut in half so if only half a banana is eaten, you can keep the rest without it turning brown and messy), grapes, carrots (pre-pealed or washed at home), yoghurt (don't forget spoons)
Sandwich bread which will keep fresh for the duration of your stay
Ham, cheese, butter, mayonnaise or anything else you like on your sandwiches
Bring some plastic containers and freezer bags for your lunch and snacks as well as paper towels or napkins
For babies I would recommend just bringing ready-made microwave meals, there is at least one baby corner (there may be more) with a microwave where you can feed little ones in peace and quiet
For evening meals the easiest is to bring food that can easily be heated in the microwave or in a pan (anything that does not involve cutting as there are no cooking knives). If you have a toastie maker, that might make for a great alternative to microwave food.
For breakfast the shop on the Ranch is ok, you can get baguette, croissants and chocolate croissants (we always bought extra chocolate croissants to take along for during the day).
Disney's Davy Crockett Ranch
We chose to stay at the Ranch for the convenience of having a kitchen with fridge and microwave which allowed us to prepare our own food and easily heat up milk for our daughter.
The Ranch (static caravans) is situated about 15 min drive from Disneyland but it is still part of the Disney accommodation options. There is no shuttle service so you need to take your own car. We were not very impressed with the static caravan not even for our half price deal. Here are some things that might be useful to know:
Baby bed (which is a travel cot) can be asked for, no sheets are provided for the small fold up mattress. Even though we had asked for a baby bed, there was no high chair when we arrived, so be sure to ask for that explicitly if you need one. The travel cot only fits comfortably in the living/dining room area. We moved a bed side table, pushed the double bed over and managed to squeeze the cot next to it so that our daughter could go to sleep while we were still up.
No small cutlery available other than tea spoons, in fact the forks were the most giant forks I have ever seen and I would have brought cutlery for both of my children had I known.
Tristan (almost 5) could have done with a higher chair too to be able to sit at the table comfortably. If you have a booster seat and have space, I'd take it along
No step in the bathroom to make reaching the sink and sitting on the toilet easier for little kids
No cooking knives available so even some basic cooking would be difficult
There is a dishwasher which is great, the kitchen set that you get on arrival only includes 2 dishwasher tabs, so take some additional ones. The set also includes a sponge and some cleaning liquid but no tea towel which is something else you might want to bring along
I also took a roll of paper towels which came in very handy
Coffee machine
Microwave which takes a little while to figure out how to operate
Rubbish bin in the kitchen has no lid (it is inside a cupboard but still …) and we did not find any additional rubbish bags, so best to take some and if needed, take some nappy bags too J
Shop – the larger section of the shop is a souvenir shop; it does have a small food section which is not very impressive and probably as overpriced as the souvenir articles. The baguette we found when we arrived in the afternoon was as soft as a sponge so we decided to go to the nearby Carrefour
If you have been to Disneyland Paris already, I would like to invite you to add your tips to this list. Maybe you can recommend another accommodation? If you have not been there yet, I would love to hear if you are finding this information useful and if you do, don't hesitate to share it with others.