A little while ago I encouraged you to bring music into your child's life. In that earlier blog post I promised tips for musical instruments for young children.
Here is a selection of purchased instruments which both of my children and the babies in my live baby signing classes have always enjoyed playing with.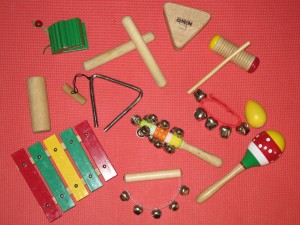 Introducing your children to music brings along more than just the music making experience. I will explain more about this in the following video. In the video I will show you several purchased instruments as well as tips for home-made instruments. Enjoy!
I have searched Amazon UK, Amazon Germany and Amazon US for sets of musical instruments. I found by far the best selection (also including most reviews) on Amazon.com. As the sets mainly include plastic instruments, I have added a few wooden items separately. I only know a few of the items personally so I recommend you read other parents' reviews.
Here is some great play along music you can download from iTunes:
Ma Ma – Sally's Music Circle (2:40)
Farm Song – The Laurie Berkner Band / Rocketship Run (2:33)
Kitchen Wrap – Sally's Music Circle / Two Little Kitty Cats  (2:15)
Three Little Birds – Elizabeth Mitchel / You are my Little Bird (2:35)
Bubble Bath – Mr. Richard / Polka Dot Puzzle (1:56)
You Are My Sunshine / Open Up Your Heart – Anne Murray / There's a Hippo in my Tub (2:47)
Go to the first blog post Bring music into your child's life.
If you have any suggestions for musical instruments (purchased or home-made) or fun play along music, please do share.
Comments
comments